Stephen Toulmin Model of Argument
Stephen Toulmin Model was developed by Stephen E. Toulmin, a British philosopher and professor at various prestigious universities in both the UK and the US.  Toulmin illustrated this model in his 1958 book, The Model of Argument.
The Toulmin Model method is a style of argumentation that breaks arguments down into six parts: claim, grounds, warrant, qualifier, rebuttal, and backing. In Toulmin's method, every argument begins with three fundamental elements: the claim, the grounds, and the warrant.
Understanding this model will help you identify the strengths and weaknesses of others' arguments and help you develop and strengthen the arguments you make.
The Toulmin model breaks arguments down into six essential parts (two triads), which all interact depend on each other to form a complete argument.
The first three parts, the claim, evidence, and warrant, are the model's primary components. The second three parts, the backing, rebuttal, and qualifier, are the secondary components because they supplement the primary ones.
To understand this model as a system of argumentation, it is important to understand each part on its own.
First Triad: Toulmin Model Claim, Evidence, and Warrant
First, Triad has three elements.
Claim
Evidence/Ground
Warrant
Toulmin Model Claim in An Argument
What is Claim in Argument?
The claim is the main point you hope to put forth in your argument is ultimately what you're trying to convince your audience to think or agree with.
Remember that a claim is a single statement advanced for the adherents of others. In other words, a claim is a point an arguer is trying to make.
The claim is the proposition or assertion or thesis, and the arguer wants another to accept. You can think of it as the conclusion, which answers the question. So what's your point?
Argument Claim Example
You might say ;
You should do the dishes tonight ! or

It's going to rain today!
Types of claims in arguments
There are three basic types of argument claims, namely;
Fact Claims: which focusses on phenomena, things that could be empirically verified
Values Claims are claims that you make involving opinions, attitudes, and subjective evaluations of things. Some people call these judgments.
Policy claims you make promoting an action that you think should occur.
But let's go back to these two examples claims;
you should do the dishes tonight 
 it looks like it's going to rain.
Most people would follow up that statement or claim with the question Why or what leads you to that conclusion? Because I did the dishes last night and I checked the paper today, and it said there was a 70% chance of rain, both of which are reasons that would support the claim.
Toulmin Model Ground/Evidence
The grounds which is the proof or evidence that you offer to support your claim or conclusion. Other terms for grounds are data fact and evidence.
We can also say that ground/ evidence is the information you used to support and explain your claim. The evidence tells us why the claim is valid.
Grounds can come in many forms, like;
Evidence: such as facts, statistics, reports or other findings, and physical evidence.
Credibility through the use of testimony or quotations
Analysis and reasoning.
If you check the newspaper for the weather report, you would be offering evidence, so this would be the grounds to support your claim that the day will involve rain.
Toulmin Model Warrant
The warrant helps us draw connections between the claim and the evidence. The warrant identifies assumptions that not everyone may share and that often go unspoken, and arguments.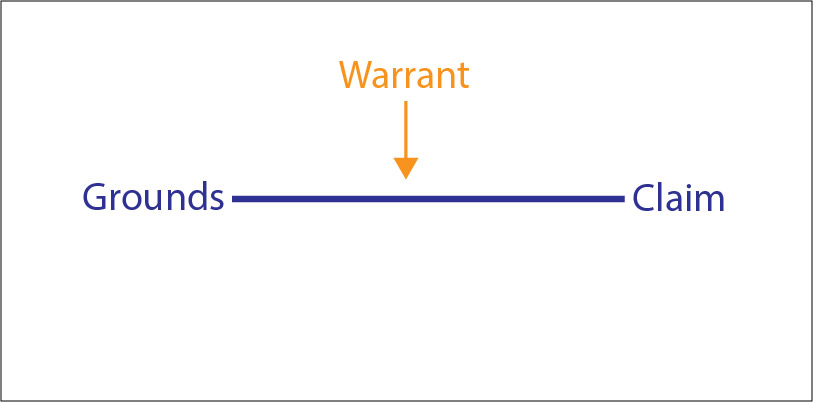 The warrant is what connects the claim to the grounds. It's the inferential or mental leap that connects the two.
Generally, the warrant is implicit, meaning that it is unstated in one way; it allows the receiver to be involved in the argument, what some call message co-creation.
Toulmin Model Warrant Example
If you met my dog, Rennick, for example, you would likely conclude that he is friendly, acclaim. You'd be right, by the way. But why?
The grounds might be that he is a golden retriever lab mix or that he's a service dog.  What connects the grounds to the claim?
What does being a golden lab or a service dog have to do with Rennick being a friendly dog? That's the warrant.
One of the characteristics of both golden retrievers and Labradors types of dogs is that they're friendly, or a requirement of being a service dog is that there not be aggressive.
Warrants could be based on the classic in artistic rhetorical proofs of ethos or source credibility—pathos, emotional or motivational appeals.
Pathos can also involve appealing to shared values such as free speech, The public's right to know honesty is important, etcetera.
An ethos involves both inductive and deductive reasoning such as analogy, sign, causality, authority, etcetera.
We don't always say the claim first and then offer the grounds. Sometimes we state the grounds first, such as Resnick is a service dog and then connect to the claim. So you know he's friendly. Regardless, the warrant connects the claim to the grounds.
Second Triad; Toulmin Model Qualifier, Backing, Rebuttal
The second Triad involves three additional elements to supplement or support the first Triad.
Toulmin Model Qualifier
The qualifier states how sure the arguer feels about the claim he or she is making. Qualifiers allow you to adjust and add specificity and nuance to your claim, thereby making it more stable and less susceptible to further rebuttals.
Toulmin Model Qualifier Example
If Resnick is a friendly dog, it assumes that there are no exceptions to that statement.
I could qualify that claim by saying;
He's usually really friendly or won't attack you when walking.
You can usually tell when a qualifier is being used when you hear words like sometimes, maybe, might, many, some, few possibly, probably.
The goal of most arguments is not to prove something is universally or categorically the case. Instead, arguments focused on probabilities, so qualifiers often improve an argument.
Toulmin Model Backing
similar to the evidence, the backing provides support for the warrant. It tells us why our warrant is an irrational assumption.
The backing provides additional justification for the warrant. It uses evidence or reasoning to make warrants that might be questionable more acceptable to an audience.
Toulmin Model Backing Example
In our example about Rennick, I might tell you all about the training service dogs go through using reasoning, or I could cite some statistics, but in either case, I'm backing up The warrant.
The backing can also be used to support the grounds.
If I offer evidence that you are either unaware of or don't trust, I might need to strengthen it by either qualifying the source or using evidence or reasoning to support it.
I might pull out Redneck's birth certificate to prove that he is a golden lab or point to the vest that identifies him as a service dog.
Rebuttal Argument Example
What Rebuttal in an Argument or Essay?
Rebuttals are potential objections to your claim, which are necessary to include, according to Toulmin, because they make your argument more nuanced and complete as they demonstrate that you are aware of and have considered oppositions to your perspective.
The rebuttal allows for exceptions or limitations to the argument. It answers the question.
What other views might there be on this issue?
It is an exception to your claim, admitting that there might be some circumstances or situations where the argument would not be valid.
 Rebuttal in an Argument Example
In Rednecks case, I could say now if your dog attacks Rennick, he might fight back. I can offer a rebuttal when I first proposed the argument, preempting potential arguments from you or after the fact if I'm questioned.
Toulmin Argument Model
The Toulmin model is often represented visually in this way to illustrate how each of the six elements relates to it depends on each other.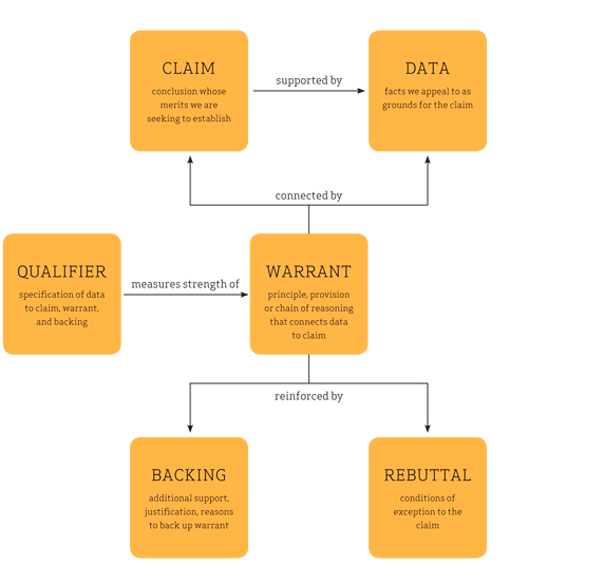 As you can see, the warrant sits between the evidence and the claim but is put in parentheses because the warrant and many arguments are often left as an unstated assumption instead of being explicitly drawn out here, we have a sample argument put into this scheme.
The warrant and the backing would be the primary source of discussion because these are the parts of the model that most depend on factual or hard data. So these would be the places where research information could be used to support this argument.
Essentially, these air the aspects of the Toulmin model that make your argument for you and that they hold up your claim and evidence against scrutiny. Without these aspects, you force your audience to connect these thoughts for you.
Toulmin Model of Argument Examples
Using a different example. You catch your 10-year-old sister smoking a cigarette.
Claim
You chastise her saying, smoking is bad for you. That's your claim.
Ground
You cite the US Surgeon General's statement that smoking causes cancer as support or grounds for that claim.
Warrant
The warrant connecting the two is that cancer can kill you, which would be very bad indeed.
Backing the Ground
But your sister is only a 10-year-old and likely has no idea who the US surgeon general is. So, you may have to explain that the U. S. Surgeon general is a spokesperson for the United States on issues related to public health. So, he knows what he's talking about, and you are backing up the grounds.
Backing the Warrant
You might also need to back up the warrant. Your little sister may not know that cancer can kill you, so you might offer examples of people she may have known who had died of cancer.
Qualifying the Claim
You may end up qualifying your claim that smoking is bad for you by saying most people who get cancer will die, and that is very bad.
Rebuttal on Qualifier
Being an intelligent kid, she is your sister. After all, she points to someone she knows who smokes and hasn't yet died from it. So, you may offer a rebuttal, saying sometimes cancer doesn't show up until later.
Toulmin Model of Argument Outline
The Toulmin model is named for the British logician and philosopher Stephen Toulmin, who created this organizational scheme to use for understanding and creating arguments that could be applied to real-world situations. His most famous work, where he put forward the Toulmin model, is a book called The Uses of Argument.
The Toulmin model is broken down into both triads, the first being grounds, claim, and warrant, and the second consisting of backing, qualifier, and rebuttal.
Elements in the first Triad of the Toulmin model
Elements in the Second Triad of the Toulmin model.
Qualifier
Backing
Rebuttal
You should better understand the model and be able to identify the elements and arguments that you make and arguments made by others. And is important you'll be able to identify which elements may be missing or week so that you can both refute others arguments and improve your own
How to use Toulmin Model to Make Argument
Using the Toulmin model of argumentation to analyze and create arguments in discussion and writing.
The Tumen model helps in the composition of arguments for these reasons. It asks you to think beyond above, below, and against your own argument. That is, you cannot have completely employed the Tumen model for your argument without putting your own claims to the test first.
Furthermore, since the scheme is built upon an inherently logical structure of rational questioning, you can be sure that your argument uses reason, if sometimes even to analyze irrational situations.
The Toulmin model is just as useful for analyzing arguments made by others as it is for creating them yourself.
Criticism of Stephen Toulmin Argument Model
Nonetheless, there are limitations to what the Toulmin model could do for you to create and analyze arguments.
The largest among these limitations is that this is a model or outline of a possibly complete argument. That is, you cannot simply take the text produced in a tool man model example and put them into paragraph form and have a good academic essay. Instead, please think of the model as a heuristic or problem-solving tool to help you work toward a complete essay, not the method for writing the essay itself.
Toulmin Method; Claim, Evidence, Warrant | EssayArgurment Writing