What is a Business Letterhead? | Company Letterhead Example
 Business Letterhead /Company Letterhead
A letterhead is a document that contains the contact information for an organization or company, as well as its logo and other branding elements.  Letterheads are typically used in business correspondence, to provide a professional appearance.
The term "letterhead" may also refer to the type of paper that is printed with this information on it.  It is a business document that contains the contact information of an organization and typically includes its name, address, phone number(s), fax number, website address and logo
Business letterheads are often used in correspondence between businesses to make it easier for recipients to identify the sender's company.  Letterheads may also include other pertinent information about the company such as department names or logos
About Company Letterhead
A letterhead is a piece of paper that has a company's name and address on it. It is either the first page of a letter or an envelope. A business letterhead should have the company's logo as well as its contact information.
The use of a letterhead first became common in the late 1830s, when James Harrison built a hand press at his small newspaper office in Philadelphia. Letterheads are now an important marketing tool for many businesses. As such, it is often part of the design process for a company's logo and other promotional materials.
A company might also have several non-personalized letterheads in other colors and sizes, due to the fact that different companies use different paper stocks. Personalized letterheads are generally of a higher quality than non-personalized ones since the printing process takes more time and costs more to produce.
For many businesses, the name of the company is prominent on the letterhead; this is often referred to as a "company logo" or "company name." The letterhead often has space for any additional information that the company wants to include. For example, appliance manufacturers may include information about their products on their letterheads.
Letterheads should always be clean and professional-looking. They are meant to draw clients into buying your product. Since the letterhead is an advertisement and acts as a "calling card", it is very important to have a sharp, clean design.
A lot of businesses use their letterheads as an extension of their brand identity. As such, they usually resemble the logo or color scheme of the company that uses it.
Address block information is a very common feature on letterheads. The address block contains all of the contact information for that particular business.
Other items that may be found on a letterhead include a business reply envelope, postage meter stamps, fax numbers, and e-mail addresses.
Personalized letterheads are popular with small businesses that do not have a large budget to pay for the material. Also, they are used by people who want to create individual stationery that represents their personality or the brand of their company.
What is contained on a letterhead in a business letter?
A business letterhead is a document that contains:
The company's name,
Company address
Contact information  like phone number, email, fax number, and website URL
Company logo or other images to make it more visually appealing
It can also include other information such as the company's logo or slogan.  The letterhead should be used on all correspondence from your company
Company Letterhead Examples
A company letterhead is a document with the business's formal name and address. It should include a logo or symbol that identifies the company.
The letterhead also includes contact information for the company, including phone number, fax number, and email address. Here is an example of a company letterhead.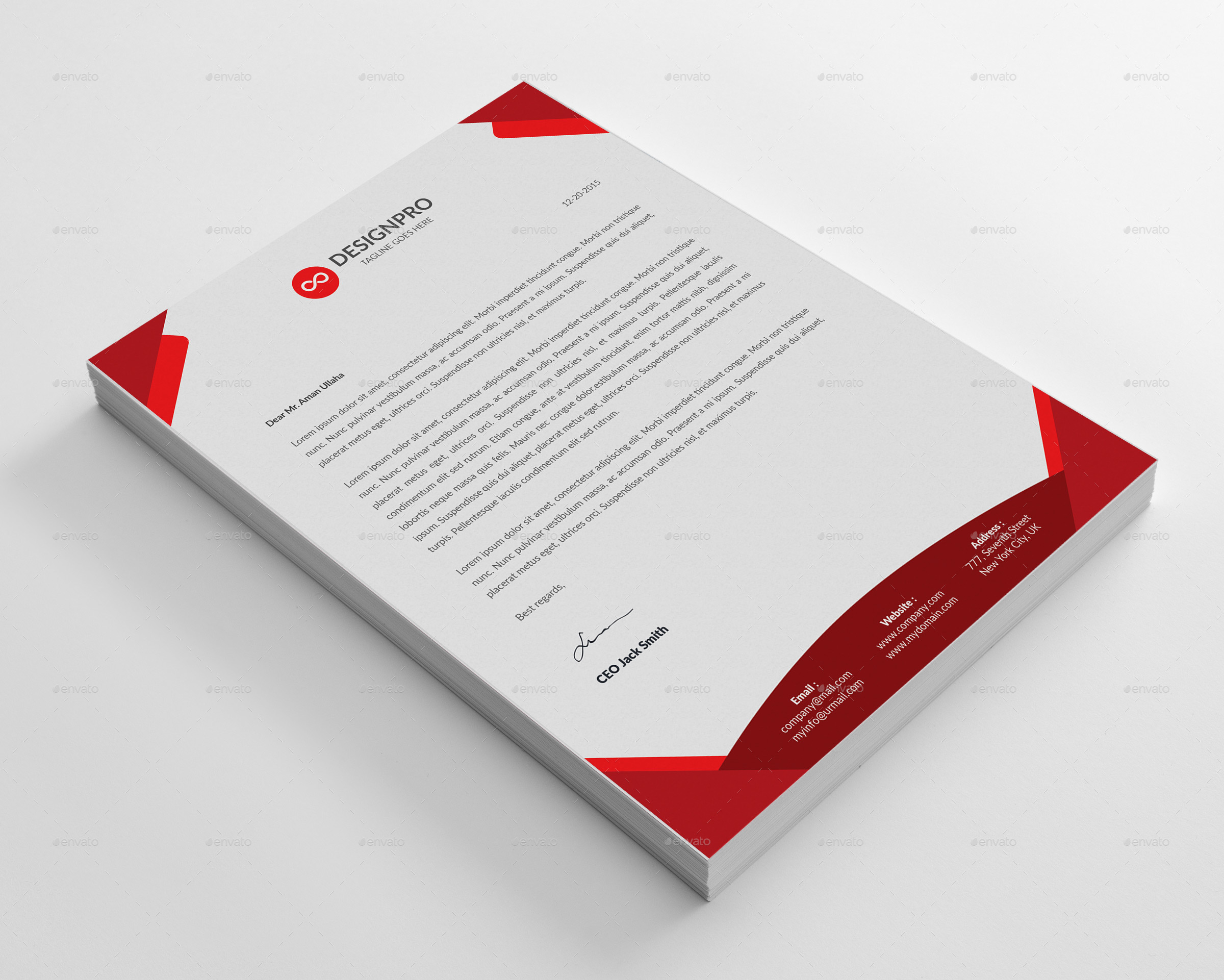 What is the purpose of letterhead on a business letter?
Letterhead is one of the most valuable pieces of printed collateral in any business. It is more than just a means of communication; it is also a physical representation of your company. It can reveal a lot about your brand's reputation and is an important component of your company's sales and marketing relations strategy.
The purpose of letterhead on a business letter is to identify the company that wrote it. It should be in the same font and style as the rest of your correspondence.  A letterhead is typically placed at the top left-hand corner of a page, but some people put it in other places
The purpose of a letterhead is to provide the recipient with basic information about the sender so they can easily respond to them. There are many different types of letterheads available for use in business correspondence, including personalized versions.   Letterheads are typically used on formal letters
You can use letterheads as a marketing tool in direct mail campaigns. They can also be used in other types of advertising to target the people who have already agreed to receive information from you. Letterheads are an important part of any marketing strategy because they provide consistent information about your business while the other materials change frequently.
Company Letterhead Sample