ADKAR Model of Change Management
What is ADKAR Change Management Model?
The ADKAR  Change Management Model was created by Jeff Hiatt, the founder of the change management consultancy ProSci.
ADKAR model is based on the importance of change adoption at the individual level. It is a great model that summarizes what needs to be considered the start of any change project and then throughout its progression to post-project.
What is Change Management?
An organizational change occurs when groups and departments within that organization change. But for those departments and those groups to change, those employees within those areas must change as well.
Only when affected employees make the transition will the organization and those departments realize the original change intent's successful outcomes.
It is dependent on people changing for an organization to change. This is the basis of the ADKAR model.
Change can range from small, incremental change to substantial disruptive change. Within our business environments, we can see changes involving job roles, organizational restructuring, mergers and acquisitions, changes to business processes, those supporting systems and tools, and really, anything in between.
Just about anything we do or interact within the workplace can be affected by the change.
In today's workplace, they're usually multiple changes going on at once.   It is a continuous and constant improvement of our business processes and how businesses work to remain competitive, meet our customers, demand, achieve shareholder expectations, possibly meet or exceed new regulatory requirements, and ultimately provide a safe and rewarding work environment for employees.
Managing the people side of change effectively is more critical than ever.
Change Management is a structured process that is very similar to project management methodologies.  The difference between the two is that the project management team focused on the hard side of change, the technical solution, while the change management team focuses on the soft side of change, the people side. This is where the ADKAR model comes into place. It takes into account both the technical and the people elements of change.
ADKAR Model of Change Management
There are two dimensions to the ADKAR model.
Change stages of a project.
Change Stages Of Employees.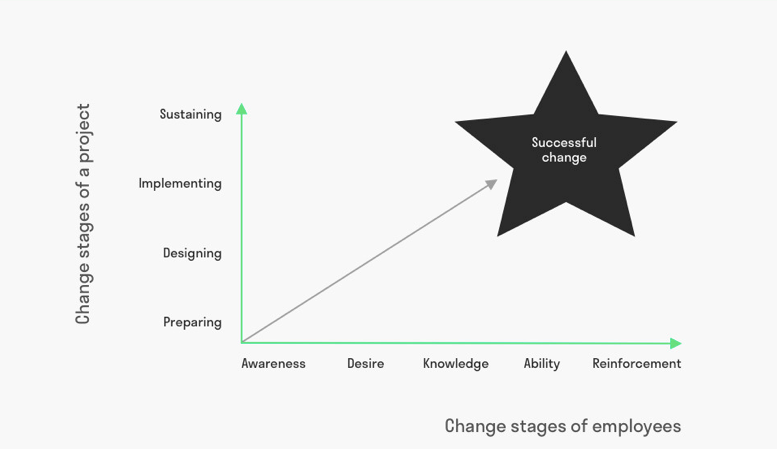 Change Stages of A Project
The first is the change stages of a project, and you will recognize that you need to:
Identify the scope of a project
Prepare for that project
Design the project
implement it
Sustain those changes that have been implemented.
And that's the structure of project management.
Change Stages Of Employees.
These are the people that are going to implement those projects. The focus of the ADKAR change Model is on the people. ADKAR is in mnemonic and stands for;
Awareness
Desire
Knowledge
Ability
Reinforcement

ADKAR Awareness
The first step to any changes is generating awareness for change. Individuals must understand the change and why it is being made, and the risk of not changing.
With awareness, what we're talking about here is answering the what and why of change. It's really where the change process begins for employees.
Ensuring that employees know the change's business reasons is a critical first step and leads employees through the change process.
Creating awareness could explain that a vendor is no longer supporting existing software and that a new one is required to continue the business. Or it could be as complex as explaining that global business conditions, increasing regulatory requirements, and customer expectations are requiring the organization to undertake a global improvement initiative that will transform the business processes, supporting systems, and associated job roles.
But regardless of the level of change, whether it's small or large, we all want to know the reasoning behind it. Without awareness, employees are more likely to resist change. Lack of awareness is the number one cause of resistance.
ADKAR  Desire
Change practitioners must kindle a desire for change in employees. They should influence individuals, but ultimately, it is the individual who must choose to support that change willingly.
This is one of the most challenging elements of the ADKAR model that we're faced with, and the challenge is the desire of one's own choice to either participate in the change or not participate. It's an individual's choice to choose whether or not they're going to engage or buy-in. But the good news is there's a lot we can do to influence that choice.
One of the key contributors to fostering desire is to help our employees understand what's in it for me. This is where the employee's manager plays a key role. Someone's manager or supervisor, the person they directly report to, tend to have a more personal relationship with the employee versus senior leaders.
They have a better understanding of their day and day out work, and they can translate the change into meaningful terms and answer the question. What's in it for me?
Through one-on-one conversations, managers can uncover their employee's personal reasons for resisting. They can aid in removing any barriers that might keep the employees from buying into the change.
ADKAR Knowledge
Effective change management means acquiring the knowledge to change and the knowledge to perform after the change.
Once our employees have a high level of awareness of the what and the why of the change and they've decided to participate in the change, have the desire, we can move forward with transferring knowledge to them.
Knowledge translated into common terms is usually called training by most organizations. To effectively progress to the next phase of change, employees must now learn how to work or function differently.
Training and knowledge building should be relatable and meaningful to the employee's job role and duties. Training can vary in levels, from informative training to in-depth, hands-on training.
ADKAR Ability
Ability translates knowledge interaction. In this stage, employees must turn their learning into practical application.
This is where employees start to perform the change. This is where they take the knowledge that we've just given to them, and they turn it into practice.
It is kind of where the rubber meets the road; having knowledge on how to change and having the ability to perform the change is very different.
Some employees will have the experience and the natural ability to perform the new way. But for others, this could be a very challenging and frustrating time as they learn to do something different.
This is where we must apply to the coach, encourage employees, provide them with feedback, set them in the right environment to practice, and apply the new way of doing work.
This phase takes some time because employees will have different entry levels and abilities, so we need to allow employees time to practice asking questions.
Once we start to see ability being achieved, the good thing is when we begin to see the actual changes take place.
ADKAR Reinforcement
Reinforcement is critical and can include recognition and rewards as well as Intrinsic satisfaction. Reinforcement is a critical step.
A lot of organizations lose sight of the main thing. They get to the implementation phase, and they're starting to make some progress, and many companies will kind of veer off and take on the next project thinking that change will sustain itself.
In reality, we need to have a reinforcing system to help employees continue down that path of change, adoption, and utilization and become proficient.
The past practice has a very strong hold on individuals, and even when those habits and practices are not known to be good at all, employees can gravitate back toward them. You think about and change stretching a rubber band out that rubber bands going to relax forward, or it's going to relax backward, and without a reinforcing system in place, we tend to revert to our old ways.
This is why we must make sure that we have systems in place and that we have communications in place, and that we're observing the change and were given employees feedback.
If we don't have that, employees will start to find workarounds if they're struggling with the change, and they may even revert to the old way of doing business.
Prosci Five Levers of Change Management
ProSci identified five levers for change management. They are;
The Communication Plans
The Sponsorship Plans
The Coaching Plan
The Training Plans
The Resistance Management Plan.
The term lever is used because these plans allow us to put effort into a specific area of direction. When we're working on those plans and activities, the goal is not to complete that but to leverage them towards employee adoption and usage.
ADKAR Communication Plans
You need to ensure that the senior team commits and determines how much communication on what sort of communication cascades consistently throughout the organization.
To help with that, you might want to consider Burke and Litwin's drivers for change so that you can look at the big picture and how each area within your business links with one another.
And of course, the PESTEL analysis, which looks at areas outside of the business that may require you to change your business model.
ADKAR Sponsorship Plan.
This is about recruiting a senior team member to drive, monitor, and evaluate the adoption process.
It's really important that they actively invisibly participate in the change.
They build a coalition of support from other senior leaders and managers, and they communicate directly with employees about the business reasons and the nature of the change.
To help frame what the sponsorship plan needs to look like, you might want to use the power SWOT tool to help you do that.
ADKAR Coaching Plan.
It is important to develop the line managers coaching skills to lead attitudinal change. The line managers of the ones who will communicate the message are about change and how it directly impacts employees. Their own attitudes to the change will directly and immediately affect how employees react to the change, too.
They will be the ones that need toe, identify and manage the resistance to the change.
We may want to look at the Business Model Canvas again to identify how the change affects all aspect of the business so that the coaching team can communicate the effect that change will have on other parts of the business, but also recognizing the Kubler Ross change curve that helps managers to recognize the difficulties people will go through during a period of change and being able to adapt their communication skills than to facilitate the change as swiftly as possible.
ADKAR Training Plans
It will be important to complete training needs analysis to develop skills and capability by experts in their field.
The change manager's role in training is to identify the skills and capabilities that employees need and recognize gaps.
Tools to help you with that. Maybe a skills and resource analysis with the five-phase growth plan to enable you to work through the change process and bring in the skills and resources at the right time for the organization
ADKAR Resistance Management.
Recognize or consider where pockets of resistance are likely to develop a contingency plan. Resistance to change has been one of the top obstacles to successful change.
Whilst it is a natural reaction, there are steps that organizations and managers can take to prevent and mitigate the impact of that resistance.
Tools that could help all Gleichen's change formula and Vroom's expectancy theory
Importance of Following ADKAR Change Management Model Steps
There is typically too much risk when bypassing any of the ADKAR model's steps in the organizational changes management process.
Change is occurring at a rapid pace today with project budgets, resource schedules, and expectations on a tight timeline, and when we don't follow the process, we risk not meeting those objectives.
Management efforts should be result-oriented, scalable, and not solely about the tools or models.  Tools and models exist to guide us in our efforts and leading employees through change, and for the majority of the time, we need to follow them.
But we shouldn't be so rigid in the application that we lose sight of what we're ultimately trying to achieve, and that's helping employees make that transition successfully.
ADKAR Change Management Model Summary
Change happens at the individual level having a clearly defined vision and a structured project plan. A well-designed solution in itself will not assure successful change at an individual level.
Those are all good things to have and things that we need. But they won't necessarily drive change for employees to adopt and fully utilized and be proficient with the change.
There must be a high level of awareness of why the changes being undertaken, and the employees' changes must have a desire to participate and engage in the change.
A lot of times, we talk about employed by in, and that relates to the desire. Once they have that, we need to make sure they know how to change.
Once they have that knowledge on how to change, we have to provide them, then the ability and the opportunities to perform the change.
And finally, once they start to practice the change, they begin to adopt it and unifies it.
We have to have a reinforcing system in place to help sustain that change.
These are the elements of the ADKAR model that each employee must achieve for change to be successful.
It helps us understand an individual's needs during a change at work or home or wherever it might be, and it directs what kind of support we can provide to help them successfully make that transition.
The ADKAR model is also a tool that we can use to evaluate our change effectiveness.
When applied to any change initiative, the ADKAR model guides leaders and the project team, and others within the organization and what activities will help foster change at an individual level.   Once we change at an individual level, departments change, and then the organization has successful changes.
ADKAR Change Management Model Strengths and Weaknesses
Strengths of the ADKAR Change Management Model
The ADKAR model is a key tool in diagnosing and addressing employee resistance to change.
ADKAR model is a key tool create a successful action plan for personal and professional advancement during change
One of the ADKAR management tool's key strengths is it provides a simple and practical approach to change management. Compared to other tools, the ADKAR model easily applicable for small and large organizations
ADKAR management tool has been extensively used ADKAR hence it is a tried and tested tool.
Prosci, the company behind ADKAR, offers extensive training support for organizations, guaranteeing successful change management.
Weakness of the ADKAR Change Management Model
The ADKAR change management model does not distinguish between incremental change management and disruptive change management.
Another weakness of the ADKAR change management model is that it does not bring out leadership and management's key roles or functions.
ADKAR Change Model Explained