Contestable Market Examples | Contestable Market vs. Perfect Competition
Contestable Market Theory
What is a contestable market? 
Market contestability refers to the extent to which an individual or entity may enter a market and compete. Contestable markets are those where the number of potential sellers is so large that no one seller can control the market.
A contestable market is when there is a level playing field for all competitors in the marketplace. The marketplace offers various products and services, and there are no barriers to new businesses entering the industry.
A contestable market is one in which new entrants can compete. It refers to a market in which the entry barriers are low, and the benefits from an increased market share are less than the cost of creating that market share. The benefits of a higher market share are outweighed by the cost of creating it.
The market is typically classified as being either a contestable, oligopoly, or monopoly. Contestable markets are when the same product can be manufactured in different places, and the price remains competitive.
Competition can come in the form of new entrants, old entrants, and substitutes. New entrants have the advantage of no preexisting competition and can choose what to produce, how much to charge, etc.
Old entrants are already established in the market with an established customer base. Their markets are more encumbered by regulations, and their identities are more entrenched with their customers.
Example of Contestable Market in Real Life
One of the most contested markets in this day and age is tv shows. The problem lies that tv shows can be seen in so many places, and by so many different people, it becomes hard for the creators to measure their market, but rather just arbitrary numbers.
TV shows used to be shown on networks like NBC and CBS, but now they are also found on YouTube, Facebook, and other entertainment sites.
Another example in a contestable market for coffee shops; any person could start their own coffee shop business if they wanted to.
Contestable Market Diagram/Graph
A contestable market graph is a graphical representation of the supply and demand for goods in an economy. The graph usually has two axes: one indicating price, and the other quantity demanded or supplied.
When there is a surplus of goods, the curve shifts to the right; when there is scarcity, it moves to the left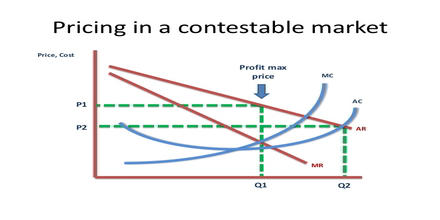 In a contestable market, the equilibrium price of the product is much lower and the equilibrium quantity is much higher than in a perfect market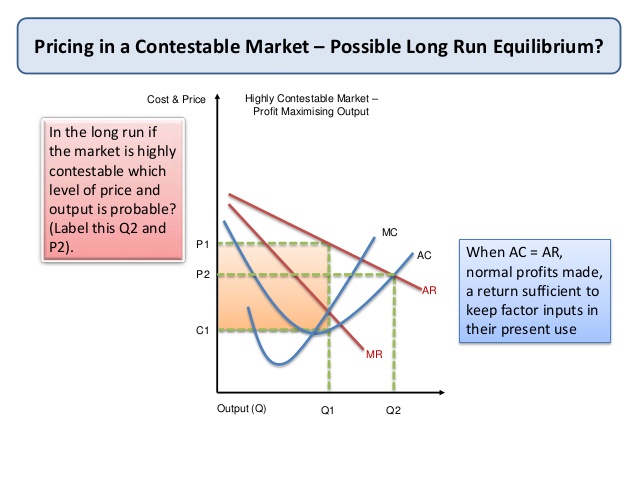 Contestable Market vs. Perfect Competition
Difference between a contestable and a perfectly competitive market
A contestable market is a market in which there are many buyers and sellers, such that no single buyer or seller can affect the price of the good.  In contrast, a perfectly competitive market is one where there are so many buyers and sellers that each individual buyer or seller has little to no effect on the price of goods sold in the market.
Contestable markets are less competitive than perfectly competitive markets.  Incontestable markets, there is a chance that the price will be set by an individual company and not by the market as a whole.  This means that if one company sets its prices too high, it may lose out on business to competitors who offer lower prices.
A perfectly competitive market is one in which no participant can influence the market price. A perfectly competitive industry is a hypothetical situation where many firms or individuals are selling an identical product. None of them have any control over the price. They do not have any unique expertise or capacity that enables them to influence the price.
A contestable market is an imperfectly competitive market in which a new firm can enter and potentially overturn an established firm to capture some of its profits in one simple move.
A perfectly competitive market is a theoretical concept in which many firms produce an identical product, and none can control the price. They cannot influence the price because they have no barriers preventing entry into the industry, and also, none of them possess any unique skills or expertise that can make them stand out.
The firms in this market are all price takers and must consider what the market will bear when determining prices as opposed to what they individually want to charge.
A perfectly competitive market only exists in theory, but there is evidence of contestable markets existing in the real world. Contestable markets are usually in oligopolistic or monopolistic industries, where there are imperfect competition and some barriers to entry.
These leaves open the possibility that competition can come from outside the industry. A key characteristic of a contestable market is that firms can be overthrown by new firms offering equivalent services at lower prices.
In a contestable market, firms can be overthrown by new firms with lower prices. A perfectly competitive firm in a contestable market will not be able to influence the price because it's not in control of the market. It is also not the only one that can be toppled by a new firm offering prices at a lower cost.
Four characteristics exist in a contestable market:
In contestable market, firm has few barriers to entry into the market
Smaller firms can overthrow larger firms.
Firms are not able to influence the price because they have no control over the market.
 Firms cannot be toppled by firms with lower costs because there are many firms in the market.