Wilbur Schramm Model of Communication.
What is Wilbur Schramm Model of Communication?
Wilbur Schramm Model of communication views communication as a process that takes place between a sender and a receiver. There will also be a message and a medium through which the message can be transmitted (Schramm, 1948). Wilber Schramm proposed this model of communication in 1954.
According to Schramm's communication model, coding and decoding are the two essential processes of effective communication. He also emphasizes that the communication is incomplete unless and until the sender receives feedback from the recipient.
Schramm's model has been around for quite some time, but it still has a lot of relevance today. Schramm's communications model is what helps us to articulate what happens in communication. That is important to instructors when they are designing learning environments as well as the content.
History of Schramm Model of Communication/Osgood Schramm Model
Transmission Model of Communication (Shannon and Weaver Model)
The transmission model begins with a specific message source. Who is it or what has some specific thoughts or ideas, what the framers of this model referred to as information that needs to be conveyed to an audience?
What the source is going to do is to take those thoughts and ideas, and information and encode them into a message.
A message essentially is a form of using signs and symbols to put the thoughts, etcetera, into a form that somebody else will be able to understand.
For example, a song's message is; lyrics and beats are being used to lay down tracks of hip-hop music. Now that message will be carried to whoever is going to receive it over a specific channel.
A channel is essentially the sensory route that a message takes as it is going from the source to the receiver.
The musician is probably looking to get that message to a broad audience and not just a single point receiver. The message will need to rely on a channel that uses technology to make sure it gets where it needs to go.
And when we're talking about channels that use technology, we refer to these as media.
In this case, the medium being used is digital music technology that will be uploaded and shared, and downloaded to a particular receiver. Once the receiver downloads these tracks and starts listening, the receiver is going to decode the message.
In other words, listen to the music, listen to the lyrics, and try to figure out what the thoughts and ideas were that the musician is trying to convey.
And at various points in this tract, from source to receiver, there's going to be the possibility of noise.
Any phenomenon that might potentially distract from or interfere with the successful communication process.
Here, the transmission model is a relatively one-way communication model, moving from source to receiver, the source basically being the most active participant. In contrast, the receiver takes a more passive role.
Osgood Schramm Model of Communication
Subsequent researchers are asking the question. Is there more to communication than just this one-way flow of information?
One of those important scholars was Wilbur Schramm, who researched and theory building to refine Shannon and Weavers Linear Model.
And Schramm is especially interested in what kind of thing happens once the receiver actually gets the message and decodes it.
Charles Egerton Osgood,  psychologist, and professor popularized the notion that communication was circular rather than linear. Meaning that it required participants to take turns sending and receiving messages.
Later, Wilbur Schramm, a scholar and founder of the Iowa Writer's workshop, talked about the model in his book 'The Process and Effects of Communication.' He adopted the model and added field experience or commonality, stating of sharing features or attributes.
The Osgood Schramm model of communication is built on the theory that communication is a two-way street with a sender and a receiver.
In the Osgood Schramm Model four main components of this model.
Encoder
Decoder
Interpreter
Message/Feedback
Osgood and Schramm Model of communication Process
According to the Osgood Schramm Model of Communication model, communication starts with a Sender that is a person who initiates the communication. In this case, that's me. I am encoding the communication into written English with some visual signals, and therefore encoding means that it gets encoded into some format to be transmitted as a signal.
That signal isn't going to be received over here by the receiver that's you.
But to receive that, you have to decode that, which means that you have to understand written and spoken English and understand these visuals as they are presented to you.
Feedback in the Communication Process
Assuming all that happens, then it makes it to the receiver. As the sender, I need some feedback from the receiver on how that message was received.
Was it received successfully? If so, in a classroom, I might see people nodding their heads in agreement.
In a format like this, I might see, likes a video, I might receive an asynchronous email from you that that you understood.
However, feedback can also be negative even though the signal was received that it wasn't understood.
Role of noise in communication process
Schramm's communication model accounts for something that happens to the signal, and that is noise, and noise in Schramm's communication model is anything that impacts the signal. That noise can certainly be auditory. It could be airplanes flying overhead; it could be the hum of an air conditioner, the buzzing of fluorescent light.
But in Schramm's model, communication could be interrupted by a noise that may not be auditory.
The other thing that's very important in Schramm's model is overlapping fields of experience between the sender and the receiver.
Field of Experience in Communication
Field of Experience in Communication refers to how the experiences, environment, culture, and even heredity can influence how a sender and receiver interprets a message. Field of Experience is important in any communication because each person brings unique factors to an interaction. When the sender and the receiver have the same field of experience, communication is achieved as people both send and receive messages.
If you look and those overlapping fields of experience, that's where the signal is. For that signal to make it successfully to the receiver, it needs to be within a shared field of experience.
Example: If our understandings of popular culture are different, then we can have problems with our field of experience.
Many other things impact the field of experience.
It could be impacted culturally; if the sender and the receiver or from different cultures, then it's possible that examples could be used that are not understood because of cultural differences and perhaps cultural biases.
Fields of experience can also be separated by things like socioeconomic status, the geographic region of the country you might live in, and a number of other things.
Anticipating what noise might impact a signal can help us not necessarily eliminate the noise but perhaps to control it somehow.
Understanding that our examples have to have relevance to both parties means that we do a careful analysis of who our learners are so that we have a better idea of what our instruction may be able to do to bridge both fields of experience
In this model, the interpreter is both in charge of receiving and sending the message. Thus, the interpreter encodes and decodes the message.
But the cycle cannot exist without another participant. For this cycle to be created, let's indicate the left interpreter as person A and the right interpreter as person B.  The sender will be indicated as an encoder, and the receiver is indicated the decode Person a sends a message to person B and person B sends a message to person A. Then vice versa.
The best example to show Osgood Schramm Communication Model on the modern road is communication through our cellular devices.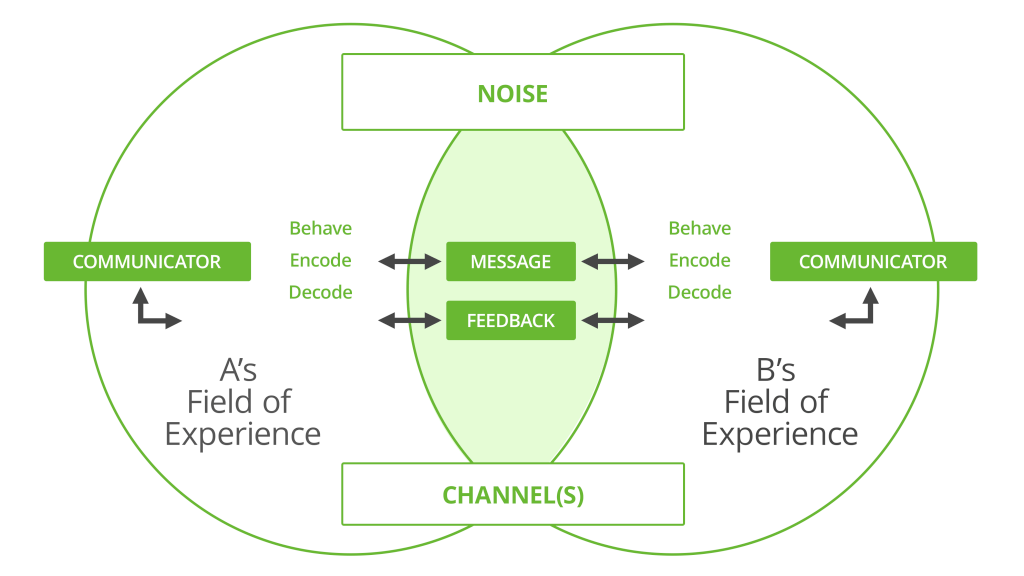 You, as person A, sends a message to person B. Person B then receives the message, then, since it's a reply, then after that, replies, and as person A receives the reply, then the cycle continues.
The model has fundamental communication elements that will be in place and be really important, regardless of the specifics of that situation.
Schramm Model of Communication Example
Osgood Schramm Model of Communication model example of a public speech at an academic or professional conference where the speaker presents the results of research in a presentation intended for an audience of that College.
Therefore, much of the process from the transmission model is going to carry through as expected.  The source has ideas, thoughts, and information that came out of the research, which will then lead to the encoding of a message.
First, writing a paper and then changing that paper into a public speech presentation and then how it will be carried through a channel.
Consider the light waves,  sound waves, and the space between the source and the receiver to carry the speaker's voice, the speakers, gestures, and nonverbal expression. It also includes anything displayed on that screen with PowerPoint slides, charts, and graphs, photographs, maybe some video, whatever it happens to be.
The message is the public speech and the various things that are encoded into it. The channel is how we get it, from the speaker to the audience, and then, of course, the receiver is then going to engage in decoding the message.
Listening to the speech, seeing the things around the screen, and making sense of them is basically decoding.
But if you've ever been to a public speech as an audience member or as a speaker yourself, you know that this is not the end of the story. Because while the speaker is speaking, the receiver is responding to that message with a variety of things;
They could be establishing eye contact and nodding when they hear something they like.
They could be taking notes.
They could be rolling their eyes and looking sleepy or perturbed,
They could be glancing down at a faint Electronic glow from their lap that currently has their attention, more so than the speaker does. 
In this case, the audience is also a message source that will be encoding their own message, a message that we often refer to as feedback taking this message that's intended to go to the source of the message.
It could be messages that aren't necessarily intentionally sent to the source but get to the source nonetheless through the channel of space that enables the non-verbal communication to be seen by the speaker.
The source ought to be paying attention to the receiver's nonverbal feedback because that source will become a receiver who will be decoding the message being sent by the audience.
The speaker could be thinking; My audience is looking really sleepy and distracted, and they're rolling their eyes, and some of them look like they're really kind of annoyed to be here, and there's a few people that are just texting or doing Twitter.
Therefore, in response to the message that's coming from the audience, this speaker will perhaps change the way the speaking encodes the message. Like presenting in more energetic, engaging delivery. A particular visual representation on her PowerPoint that she was saving in case she actually needed it.
The message's new elements will be sent through the channel back to the audience, who will decode it and then encode another feedback response.
Maybe, they will become more attentive, start establishing full contact with my eyes and face towards the speaker or start taking those notes.
These non-verbal messages are going to get sent back to the source through the channel. Who was going to decode them?  Are they paying attention?
After the speech is over, the audience applauds the applause provides positive feedback that the speech did some good things. The speaker responds by saying, Thank you.
The audience may start asking questions to which the speaker will answer them, and you can see how this circular loop continues.
Noise
Of course, there is the possibility of noise at various points in this communication situation. And it's not necessarily just going to be the technological noise of things in the channel that might disrupt the source's flow to the receiver.
We can understand noise from a lot of different contexts. Perhaps the speaker is internally distracted. Maybe she's bummed out by the negative feedback she's getting from the audience, and maybe it actually throws her off her game, so she ends up communicating less effectively.
Or maybe the audience is experiencing physiological noise because they're very tired or very hungry, or they're sleepy because it's just after lunch. Maybe they're experiencing psychological noise because there are other things they would much rather be doing than sitting in this presentation.
Many potential things might interfere with the flow of communication in this turn-taking model, so you can see many things very similar so far with the transmission model.
The feedback loop that goes from receiver to source building in this circular turn-taking element to communication is profoundly different than the transmission model.
In Schramm's work, there's also another really important element that we don't see in the transmission model, and that is that all of this stuff that we've been talking about so far takes place within a specific context.
Context
Context is essentially all of the conditions that surround and have influences on any particular communication situation.
We could be talking about physical context, everything from the time of day to the room temperature, how the room is physically situated, with rows of desks in front of a speaker who's upfront.
We could have psychological contexts, such as the amount of personal significance that the speaker has in this presentation's success, relative to the importance or potential lack of importance of any audience members who happened to be there.
Related to these, there could be situational context, the nature of this conference. Why are all these people together for these meetings in the first place?
What is it about the topic area of the presentation related to other things surrounding the audience and surrounding the speaker?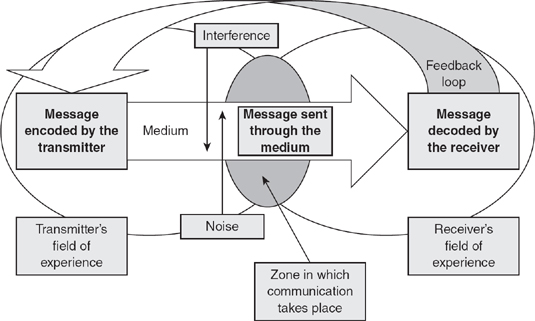 Osgood Schramm Model of Communication model Summary
To sum up the interaction model, there's a couple of things we can identify.
Bilateral communication; –If unilateral communication is one way in the transmission model between the source and the receiver, bilateral communication means that both participants will be taking part in the communication process. The interaction model depicts this through the process of circular turn-taking.
The kind of communication is symmetric. Rather than the source having all of the power and influence in the situation, the receiver of the message also has a really important role because they're going to be providing feedback to that original source that will influence how that source continues to communicate to the receiver. And it keeps going through this turn-taking process.
The role of context is extremely important in understanding how this turn-taking results in an exchange of meaning.
The advantages to Osgood Schramm Model of Communication model
The model is that it is dynamic.
There is no separate sender and receiver.
It assumes communication to be circular in nature.
Disadvantages  of Osgood Schramm Model of Communication model
This model does not talk about semantic noise, and it assumes the moment of encoding and decoding,
There will always be a misinterpretation.
Other Communication Models
Transmission Model of Communication Shannon and Weaver
In 1948 Shannon and Weaver published an article explaining this model. They worked at Bell Telephone Laboratories at the time, so their approach really shows that technological angle on their thoughts. In other words, they envisioned a center or source of information that encodes a message.
For example, let's say into a language, then transmits that message through a channel of some sort; the messages then decoded on the other end and received by a receiver. It's very reminiscent of the phone system.
Noise, however, is another part of this model. Noise might interfere with the message at any point along the way, maybe in the decoding and the receiving of the message that says the message is garbled or doesn't make sense on the other end because something's wrong there's some static in the line, so to speak than that might complicate the communication process.
According to this model, communication has successfully occurred when a message has been sent and received. So, in that way, it's a linear or one-way model.
There's no feedback and no nonverbal communication in this model. That's considered a major weakness to some people in terms of how we understand face to face communication.
It's like a text message and email, a voicemail Anno, old fashioned telegraph, or even a letter in the mail.  You send it, but you don't necessarily know when and if the receiver has actually received the message; it goes one way. And then soon as they read that or decode that message, then communication has occurred.
It's also sometimes called the container model of communication because the words according to this model are thought to contain the meaning, everything you need to know. In other words, all the meaning is contained in words.
This model is very useful for explaining how information technology works and how communication works anytime you're sending it through some technological communication channel.
It has clear limits, though many people criticize it because it doesn't explain the complexities and the human dynamics of face-to-face communication.
Transactional model of communication,
A transactional model of communication compensates for some of the limitations of Shannon- Weavers' one-way linear model.
In 1967 Paul Watzlawick and his colleagues built their model on some previous writings. They looked at the interactional communication features and tried to capture that in their model, sometimes called the interaction model.
Right after that, in 1970, Dean Barnlund published his work that expressed many of the same ideas with slightly different wording, but all of these concepts that were coming about in 1967 to 1970 were all aligned.
It has some key differences from the Shannon and Weaver model, this model the transactional model.
They don't believe that meaning is contained in words. Instead, they think the meaning is in people. Meaning comes about through the interaction.
The communication process is largely about creating shared meaning between and among people. You don't start by understanding other people. We have to work toward that through communication.
According to this model, people are both senders and receivers at the same time. So, this model integrates nonverbal communication and feedback. There's a saying or an axiom that goes with this model. You can not communicate. That's another way of saying that you're really always sending messages of some sort, whether you realize it or not, whether you intend to or not.
When you include nonverbal communication of feedback, you're always giving off some kind of vibe that the other person will be picked upon. This has got much more of a two-way dynamic feel to it.
And so I prefer the metaphor of a dance where you're dancing with a partner, where each communicator is learning the steps from the other person as they go simultaneously. When it's done, they have reached some similar understanding and meaning for what they're trying to do in that dance.
A lot of conversations, or like that, there's a back and forth. There's a simultaneous nous to it where you're figuring out what you mean as you go along.
This model has some other features that add to the Shannon and Weaver model.
Context
Context shapes the way we process this communication in every way in a work setting versus a private one-on-one setting if we're in a big crowd of people. All those contextual features are going to shape and influence the communication process.
According to the transactional model, we also arrive at these interactions with what we call a field of experience. Each communicator has attitudes, beliefs, values, and psychological influences that shape and interpret our messages.
We look at the non-verbal and verbal cues, and because of all those attitudes and beliefs, we were making sense of them were interpreting them in specific ways.
This shows how the decoding of messages is much more sophisticated and layered than simply figuring out what the words mean. You're reading the signals very carefully and understanding things from a certain point of view. You're filtering everything you hear and see through your field of experience.
According to this model, is also content and relationship dynamics that play in a conversation. There's content that we're exchanging that information we're sharing back and forth. But our communication also has relationship dynamics to it as well.
Our tone of voice, our pace, our looking at the other person. We're all looking for specific cues in a conversation. We all see ourselves a certain way. We all see the other person a certain way, and so we can read between the lines, and it's not just the content is also that relationship dynamic that gets established.
Most people agree that the transactional model communication is much better at capturing the face to face realities of human relationships. It makes up for a lot of the shortfalls of the Shannon and Weaver model.
Constitutive model of Communication
Another model is the Constitutive model or the constitutive Theory of communication.
In 1999 Robert Craig wrote an article in the journal called Communication Theory, where he explained that communication is constitutive. In other words, communication creates. It produces our social world.
Robert Craig sees communication as the driving force in our lives and our relationships. Craig talks about how communication is the central activity in our lives that creates all other social forces in society, he states.
Communication is not a secondary phenomenon explained by anti-psychological, sociological, cultural, or economic factors.
Instead, communication itself is the primary constitutive social process that explains all of these factors.
Manning in 2014 had much the same view, he said, that communication is not a mere tool for expressing social reality, but also a means of creating it.
Robert Craig says the economics, the social structures, the psychological features of our social world were established in the first place by communication processes.
Thus communication constituted or formed our society, our relationships, and our lives.
Summary
These three models, the transmission model, the transactional model on the constitutive theory of communication, all have their own emphases.
They all shed light on different aspects and take a different view of communication. A better understanding of these three models, especially in the ways they compare and contrast, will help you understand the readings that you're doing and the other kinds of research that you are exploring.