Cyclical Unemployment Definition and Examples
Cyclical Unemployment
What is Cyclical Unemployment?
Cyclical unemployment refers to the unemployment that occurs as a result of economic fluctuations. It is caused by high rates of inflation or recession.
Cyclical unemployment is a type of unemployment that occurs during periods of economic recession. The term "cyclical" refers to the fact that this type of unemployment goes in cycles as the economy expands and contracts with different rates.
When an economy slows down, fewer jobs are available for people who want to work or those who have lost their job due to layoffs or other reasons.  As more people become unemployed, they will spend less money on goods and services, leading to further economic downturns.
Cyclical unemployment is sometimes referred to as demand deficient unemployment. People who are unemployed due to this macroeconomic phenomenon are "cyclically unemployed" for that reason.
Cyclical unemployment is a form of joblessness that is caused by the natural ups and downs of an economy.  It occurs when there are too many people looking for work simultaneously, which leads to increased competition among those seeking jobs.
The length of time an individual remains unemployed varies with the severity of the recession or depression but usually lasts no more than six months to two years.
Recessions are often followed by periods of high employment rates due to increased demand for labor from employers who want to make up for lost production time.
Cyclical Unemployment Example
An example of cyclical unemployment is the increase in unemployment during a downturn in the business cycle.
Cyclical unemployment is when periods of economic expansion are followed by periods of economic contraction. In the United States, this is often reflected in a rise in the unemployment rate during a recession and a drop during economic expansion.
In the United States, cyclical unemployment is measured by the gross flows model. Essentially, cyclical unemployment results when there are more job seekers than jobs available. A government can try to address cyclical unemployment by implementing an expansionary fiscal policy such as increased government expenditures or tax reductions. An expansionary fiscal policy will stimulate the economy and reduce the unemployment rate.
Cyclical Unemployment Diagram
Cyclical unemployment is the result of a recession or depression in an economy. It occurs when people are fired from their jobs because there isn't enough demand for goods and services to keep everyone employed.
When this happens,  businesses will be forced to cut back on production as they try to sell what they already have.  This leads to more layoffs as employers realize that they can no longer afford all the staff members they need.
In this instance, the AD curve shifting inwards has caused the unemployment rate to go from 5% to 9%.
Cyclical Unemployment Impact
Cyclical unemployment is when there are periods of high and low levels of employment.  It can be caused by changes in the business cycle or a mismatch between workers' skills and what employers need.
This type of unemployment is not good for an economy because it causes people to lose their jobs, leading them to spend less money on goods and services.
Cyclical unemployment occurs when the economy experiences a contraction in demand for goods and services. When demand for goods and services falls, companies begin to lay off workers in order to save money on labor costs.
This also leads to decreased consumer spending, which causes more layoffs and less production.  Unemployment rates rise as people are laid off from their jobs.
When the economy recovers, companies need more workers again.  As the labor market tightens, employers must offer higher wages to attract qualified employees.
Cyclical Unemployment Causes
Cyclical unemployment refers to the fluctuation in employment that is a result of changes in economic conditions. There are two types of cyclical unemployment: demand-deficient and cost-push.
Demand-deficient occurs when there is an insufficient aggregate demand for goods and services, which leads to lower production levels and higher unemployment rates.
Cost-push occurs when wages increase faster than productivity, leading employers to reduce their labor costs by laying off workers or reducing hours worked.
The causes of cyclical unemployment are not controversial. One cause of cyclical unemployment is the mismatch of jobs and skills. Certain industries or occupations will prosper due to changes in the business cycle, which can lead to mismatches. Another cause is when wages adjust slowly, this increased unemployment and then higher wages.
Business cycles are commonly associated with fluctuations in aggregate demand and the resultant effect on aggregate supply. In other words, it can be caused by either growth or decline in the demand for goods and services, depending on the circumstances.
A growing economy will increase the demand for goods and services, which will increase output and employment. A recession is characterized by a fall in demand, which reduces output and leads to unemployment.
Recessions are periods of low economic activity and high unemployment rates.  Recessions can be triggered by several factors, such as an increase in the cost of goods or a sudden decrease in aggregate demand for goods and services.
When the economy enters into recession, companies cut back on production and lay off employees to reduce costs.  This leads to higher unemployment levels, which causes people to spend less money since they have less income.
The most common cause of recessions is a decline in aggregate demand. Other possible causes of recessions include an increase in the price of imports, a change in tastes, a natural disaster, or other unforeseen events outside the government's control.
The 3 other main causes for cyclical unemployment are:
Cost-push inflation: Cost-push inflation is when companies raise their prices, which leads to decreases in demand due to higher price tags on products. This creates a downward spiral where businesses produce less because they're not making enough money, and people have less money to buy what's being sold.
Demand-pull inflation: Demand-pull inflation happens when demand exceeds supply, causing producers to invest more into production, even if it means producing more goods that can be consumed in one period of time.
Structural unemployment: Structural unemployment refers to changes in the labor market over time, such as technological advancements
Phase of Business Cycle
Cyclical unemployment is caused by the business cycle. The business cycle is a recurring economic pattern that runs over 10 to 12 years and can be divided into four phases:
Boom Phase
The boom phase is a period of rapid economic growth, with increasing employment and decreasing unemployment. During this phase, inflation tends to rise as demand outstrips supply.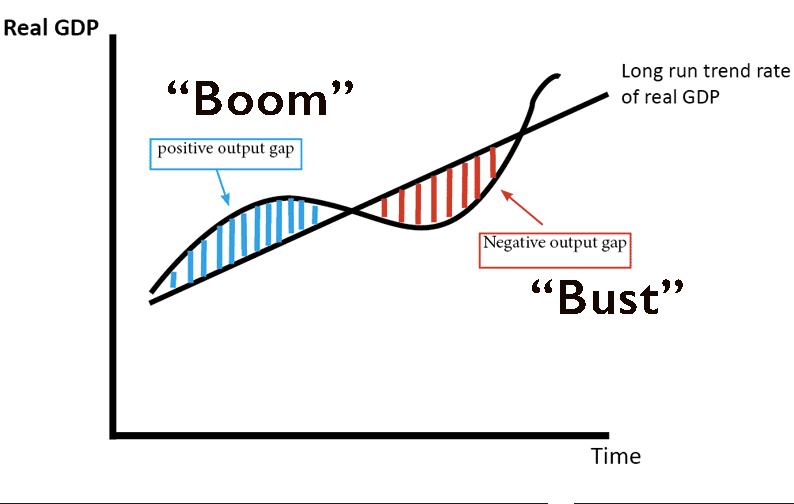 Peak Phase
The peak phase is the point at which the boom ends and turns into a recession. During this phase, employment begins to drop while unemployment continues to rise.
Recession Phase
The recession phase is a period of slow growth or even contraction in the economy. During this phase, inflation will fall as demand drops and supply increases.
Trough Phase
The trough phase is the point at which the recession ends. During this phase, employment and economic growth return to normal levels while unemployment remains high.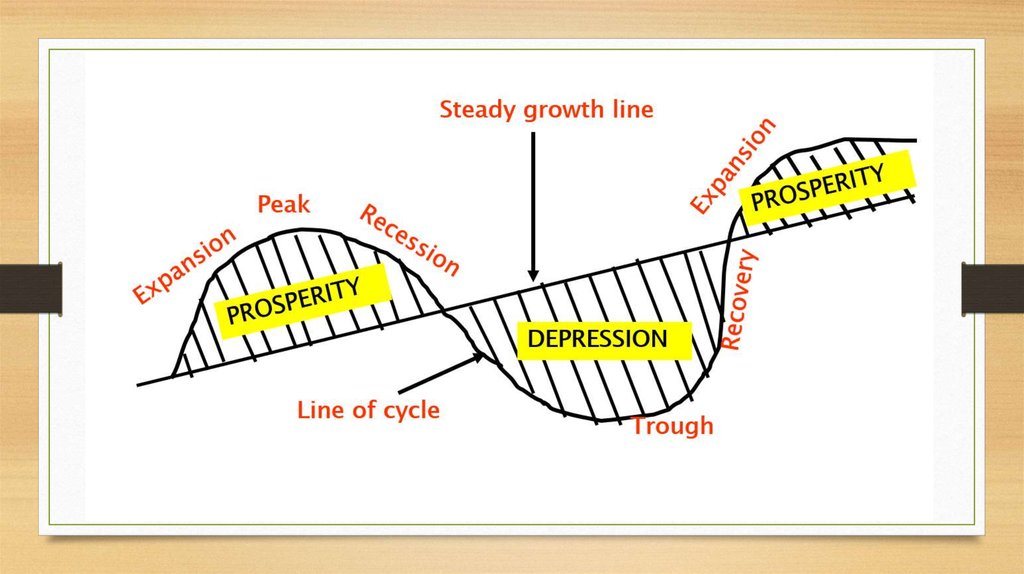 Unemployment in developed economies is cyclical, meaning that it rises and falls over the course of two or more decades in coordination with the business cycle. The causes of this phenomenon are complex and vary depending on the country in question.
Some economists have proposed several theories as possible causes. According to these theories, unemployment can be caused by inefficient labor markets, structural unemployment, and demand changes from demographic changes, the business cycle, and government policies.
Business Cycle Expansion and Contraction
Macroeconomic variables such as the money supply and interest rates can affect economic activity in both ways. When an increase in the money supply depresses interest rates, firms can borrow more money at lower interest rates and lower their production costs.
As a result, they are able to hire more workers and increase production. Conversely, when the money supply increases, interest rates go up, and firms must find more profitable uses for their capital. As a result of this lower profit margin, firms decrease the number of workers they hire.
During periods of economic expansion, it is sometimes possible for temporary unemployed workers to find work because businesses cannot replace all the employees they have lost when demand increases. This is known as hysteresis or reflux unemployment. If a fraction of these workers leave the labor force altogether, it is called golden parachute unemployment.
Wage rigidity also affects the business cycle. When wages are downwardly inflexible in the short run, firms have trouble adjusting wages when demand goes down and cannot lay off workers without cutting their pay. It makes it more costly for them to fire workers than if their wages were flexible.
This results in the firm being less likely to fire workers when demand decreases. This is why many economists believe that downwardly inflexible wages are a source of structural unemployment.
When the monetary authority lowers interest rates, there is an expansion in bank credit and the money supply. This stimulates aggregate demand and raises output levels above the full employment level, causing business failures when two major aggregate demand components fall with rising output, thus increasing unemployment.
Keynesian Model Economics
The Keynesian model has two important components:
Aggregate supply, which means how much goods and services are produced in an economy in any one period.
Aggregate demand, which means the aggregate amount of money that people in a country are willing to spend on goods and services at any given time.
In short, they are what determines total output. Keynesian economists believe that changes in aggregate supply are responsible for fluctuations in unemployment rates. They believe that if the aggregate demand for goods and services is high, then businesses will respond by increasing production and creating jobs. Conversely, if there is a decline in aggregate demand, businesses decrease production and lay off workers.
In the Keynesian model, the aggregate demand curve is based on how much people are willing to spend on goods. If people have a lot of disposable income, they will spend it on goods and services. When this happens, businesses experience an increase in demand and will hire more workers to meet this increased demand.
The reverse happens when people reduce their spending. Businesses then respond by reducing production and laying off workers.
How does cyclical unemployment affect the economy?
When the macroeconomy is below its potential GDP, unemployment increases. This happens because of both structural and cyclical causes of unemployment. Permanent or "structural" unemployment corresponds with the frictions that prevent people from moving from one job to another.
Cyclical unemployment, on the other hand, is caused by temporary reductions in aggregate demand. This means that there is increased competition for limited work opportunities. As opposed to structural unemployment, to the extent that workers are more mobile, cyclical unemployment cannot last for more than a few years at most.
When the economy is in a recession, unemployment rates are higher. This means that there are more people unemployed and less money being spent on goods and services.
As a result, the economy slows down even further because companies have fewer customers to buy their products. This creates an economic cycle of high unemployment followed by low employment.
Cyclical unemployment is characterized by a rise in the number of unemployed workers during economic downturns.  The increase in cyclical unemployment can be attributed to layoffs, which are caused by business closures and cutbacks on production.
When the economy starts to recover, some companies will start hiring again, which will lead to an easing of cyclical unemployment.