SWOT Analysis of Footwear Industry | Criticism of SWOT Analysis
What is SWOT Analysis
The SWOT analysis is credited to Albert Humphrey, who introduced the model in the 1960s and 1970s at the Stanford Research Institute. SWOT Analysis is a simple but useful framework for analyzing the organization's Strengths, Weaknesses, Opportunities, and Threats (SWOT). It helps companies assess their internal and external environment to address, minimize risks and threats and at the same time take advantage of opportunities for business success.
A company needs to continue to see how they manage both inside the company and their environment.  The SWOT analysis is a tool for a company to look at its current situation.
A SWOT analysis is depicted as a square divided into four quadrants and has two main categories, internal and external.
Internal Environment SWOT Analysis
The company's internal environment is the grouping of human, economic and physical elements to exert significant influence and control.
In this environment, it is possible to identify the strengths of a company's weaknesses compared to its current or potential competitors.
External Environment SWOT Analysis
External factors may include macroeconomic matters, technological change legislation, socio-cultural changes, and changes in the marketplace or a competitive position.
These external factors are divided into threats and opportunities for the company.
It is important to understand that the external part consists of external factors that the company cannot influence. There is one positive and one negative quadrant making up the four quadrants ( Strengths, Weaknesses, Opportunities, and Threats -SWOT))
An example of a SWOT Analysis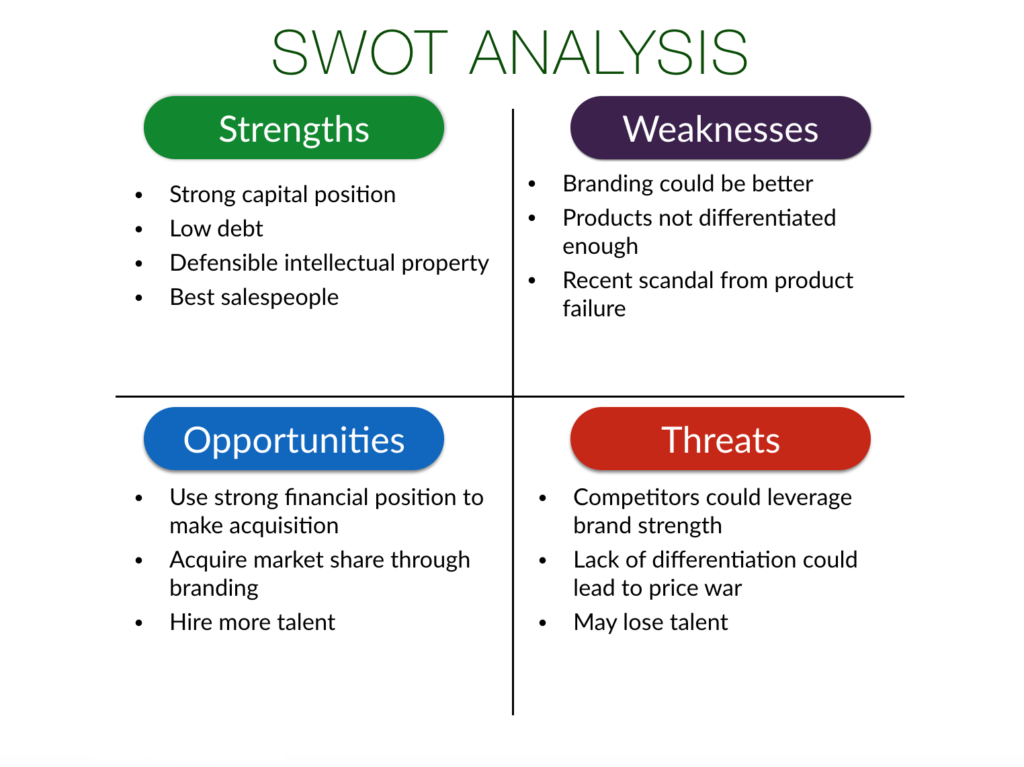 Strengths in SWOT Analysis
When considering the strength of a company, you think about the things you do well in your organization, which will help achieve the business's objectives.
Do you have enough financial access?
What are the unique skills in our organization?
What is our experience?
What do we do better than our competitors? 
Weakness in SWOT Analysis
When considering your company's weaknesses, you look at things that hurt your progress in achieving your objective in what areas we need to improve.
If you can consider the following questions?
Which resources do we lack?
What parts of our business are not very profitable?
Do we need further education and or experience?
What do we not do as well as our competitors?
When asking these investigative questions, you create the opportunity to change the situation.
Opportunities in SWOT Analysis
In opportunities, we have the external conditions that will help your company to achieve your objective.
Questions to consider include
Are there new trends in society that we can exploit?
Have customer preferences turned into profitable growth for us?
Can we use new technology to enhance our business?
Are there related products and services that provide an opportunity for your business 
Threats in SWOT Analysis
In threats, we identify the external conditions that could damage your business's performance. Questions to consider;
 What obstacles do you face?
What are the strengths of your biggest competitors?
What's going on in the economy?
What's going on in your industry?
SWOT Analysis of Footwear Industry
Applying SWOT analysis for Hummel, a Danish company that manufactures sportswear.
Strengths  in SWOT Analysis Example
Hummel has been established for a long time in its industry, and it is 100% Danish.
They have many different product lines, such as ham ball and soccer, Football close, kids wear and footwear.
Loyal customers who have been customers for several years are at the core of customers who buy Hummel's close over several generations.
Through careful selection of team sponsorship, Hummel has been successful by sponsoring them or unconventional clubs or teams where the fans are highly dedicated, like a female soccer club in the Far East, a national soccer team for the Middle East or in an African country,
The strict commitment to their CSR -corporate social responsibility and their charismatic leadership gives the company a distinctive brand.
Weakness in SWOT Analysis Example
Their strong focus on CSR can easily turn into a weakness if they do not behave according to CSR rules.
Hummel has committed some of its design resources to create new product lines, but many different product lines may dilute their brand identity.
 Opportunities in SWOT Analysis Example
Hummel is strong in the handball market, and handball is becoming a popular sport worldwide. It has become an important discipline in the Olympic Games.
Greater awareness of the sport, exercise, and healthy living offer a significant opportunity for Hummel.
Threats in SWOT Analysis Example
Football is an expensive sport in relation to sponsorships.
Football is the world's most popular sport, and it is frequently featured on TV. However, it is also the most expensive sport to sponsor.
To engage in football sponsorship requires a huge cash outlay in order to sponsor the sports star players.
At the same time, competition is tough because both Nike and Adidas have a total focus on the market, which means that Hummel cannot achieve a leading position in this market.
Swot Analysis  in Hummel Business Example
These four factors bring together a full SWOT analysis for Hummel at a given point in time, and Hummel can strategically use the SWOT Model to turn weaknesses into strengths.
By being aware of their weaknesses, they can address them and turn them to their advantage. They can review the threats, the external dangers faced by the company and manage them too.
By making themselves aware of opportunities, they can also commit resources to exploit this to the company's benefit.
How often should companies prepare SWOT analysis as a kind of situation analysis? A SWOT analysis is a snapshot of the current situation. Still, businesses are living organisms that move and evolve, and they are part of a society that also changes over time.
Therefore, companies need to keep an eye on themselves and their situation. This is why SWOT analysis is an important tool and must be part often an ongoing process.
One way of using SWOT is matching and converting.
Matching
Matching is used to find a competitive advantage by matching the strengths to opportunities.
Converting
Another tactic is to convert weaknesses or threats into strengths or opportunities. An example of a conversion strategy is to find new markets.
Criticism of SWOT Analysis/ Disadvantages of SWOT Analysis
It is important to understand that the SWOT analysis factors can be identified from other analysis tools. For instance, threats and opportunities can be revealed by a PEST analysis and an analysis of competition from Porter's Five Forces model. Without this, a SWOT analysis will be too simple and will not be a useful tool.
SWOT analysis is just one method of categorization and has its own weaknesses. For example, it may tend to persuade its users to compile lists rather than to think about actual important factors in achieving objectives.
In SWOT Analysis, some information may fit into more than one category or be slotted into an inappropriate category.
It also presents the resulting lists uncritically and without clear prioritization so that, for example, weak opportunities may appear to balance serious threats.
Another criticism of the traditional SWOT analysis model is that it identifies issues without providing solutions. The model does not prioritize the issues identified within the four areas. The information gathered may be oversimplified and crucial data overlooked.
Start-up businesses use projected strengths, weaknesses, opportunities, and threats to complete an initial SWOT, and these projections may not reflect the business's reality.
However, the model gives a clear overview of the various elements that positively or negatively affect the company and helps the company understand whether it can influence these elements.